IFC Case Study
The Client: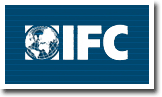 The International Finance Corporation (IFC), a member of the World Bank Group, is a global investor and advisor. It is committed to promoting economically beneficial, financially and commercially sound, and environmentally and socially sustainable projects in developing member countries.
The Problem:
The IFC has a large number of partners around the world and an even larger number of participants, trainers and courses. Each partner has its own method of saving information, which makes it very difficult to collect information from different partners. Keeping track of participants, courses, trainers, workshops and partner activity was one challenge. Monitoring activity and key performance indicators, and generating reports was another; because the data had to be gathered from a multitude of sources, many using different formats.
Centrivision's Solution:
Centrivision proposed a web-based application to enable the IFC to organize all its activities, establish control of the information, and capitalize on that information by generating performance, analytical and trend reports that would help enhance the assessment and further development of their operations.
The project involved the analysis, design and development of a partner extranet linking the IFC to all its partners on a regional level. The system is now being used by training partners in a number of countries in the Middle East and North Africa and covers the following areas:
Manage the availability of training study guides add to the languages they are in, and update their status.

Keep up to date with their partners' activities, such as the courses that they provide, etc.
Monitor the trainers who have been trained by the IFC.
Keep track of the trainees registered by the certified training partners.
Track the performance of various aspects of the training process.

Generate multidimensional OLAP reporting.
Technologies & Skills Used:
Java
J2EE
JSP
OLAP
Reporting MySQL.
Document Actions